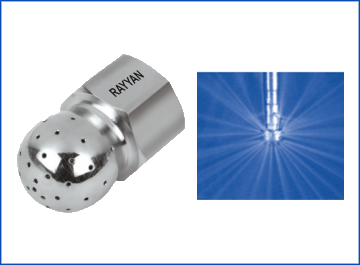 Tank Washing Nozzles (Static Spray Ball)
STATIC SPRAY BALLS. This type of nozzle is a very compact static spray ball and it produces sharp solid jets which are excellent for rinsing small drums
Introduction
Many modern industries and manufacturing units often look for simple and easy nozzles to rinse and wash their small size drums. Positively, commercial units may now meet their requirements with Tank Washing Nozzles (Static Spray Ball).
Features of the Nozzle
Tank Washing Nozzles (Static Spray Ball) comes with the following features -
According to the name only, these spraying nozzles possess a compact and static spray ball.
Based on omnidirectional spray, these nozzles wet the tank, barrel, or keg in no time.
Tank Washing Nozzles (Static Spray Ball) produce solid and sharp jets to approach the inner diameters of almost every small container or drum without any problem.
Spray balls present in a tank washing spraying nozzle have a hollow sphere with a perforating precise hole in it.
The jets produced from the nozzle hit the tanks' walls to give an efficient cleaning action.
As spray balls are simple equipment without any movable parts, they need almost zero maintenance.
What type of product do we offer ?
We at Rayyan Spray Systems supply the best quality tank washing nozzles with static spray balls to clean tanks, barrels, and kegs. You only have to share your requirement with us and take a look at our products from our official website.
The quality control measured are taken right from raw material stage to final product and that is readily reviewed through necessary documents. Internal inspection report is made for every lot and the same is given to the customer along with material TC report. All our measuring INSTRUMENTS are calibrated periodically.
We are the manufacturers and suppliers of the different type of precision industrial Spray Nozzles and Accessories since in 2004, Today 'RAYYAN SPRAY SYSTEMS' is a trusted name in the manufacturing different types of nozzles used in various fields our fields of specialization include manufacturing nozzles for surface treatment, chemical industry. Steel making industry, power engineering and environmental technology, air conditioning, fire protection, paper industry, Food and beverages, Machine tools and agriculture.
We also manufacture nozzles as per your Specification and sample. We attribute our success to our motivated and skilled work force. Who can accomplish job order of varying magnitudes and complexities. We are proud to have esteemed customers who have entrusted their faith in us over the years.
Applications of the Nozzle
Tank Washing Nozzles (Static Spray Ball) are effective to clean residual materials in many small kegs or pony kegs. A few manufacturing units and industries use tank washing or cleaning nozzles equipped with a static spray ball to provide a rinsing down-stage in many big tanks and barrels.
Forsmall kegs
Drums
Barrels
Totes
| G | L | D | HEX |
| --- | --- | --- | --- |
| 1/2" | 45 | 26 | 27 |
| 3/4" | 65 | 40 | 28 |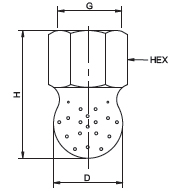 | Spray Angle | Flow rate lpm at pressure P = 2 bar | Connection | Materials |
| --- | --- | --- | --- |
| 240°, 360° | 18 to 108 | 1/2"3/4" BSP (F) | SS-304, SS-316 |
Special material and connections on request.