Spiral Full Cone Nozzles
The spiral full cone nozzles combine small sizes with wide flow rate and opening- they are non-clogging due to absence of internal parts.
Introduction
Many industries look for lightweight nozzle sprays, which have a relatively wide liquid flow rate to accomplish cleaning, cooling, quenching, and related tasks without any clogging issues. In this situation, one should look for spiral full cone nozzles. As the name itself, spiral nozzles create spray patterns by shearing fluids along with the spiral turns to produce many concentric cones.
Features of Spiral Full Cone Spray Nozzles
Spiral Full Cone Nozzles are available with the following noticing features -
The nozzles form spray patterns by influencing the fluid over a protruding helix after exiting from its orifice.
The sprays produce a few concentric rings by following hollow cone patterns.
Spiral nozzle sprays lead to a relatively less uniform distribution of liquid between the concentric cones.
What type of product do we offer ?
Our professional team at Rayyan Spray Systems put their best possible efforts to supply lightweight spiral cone nozzles without making any compromise on the quality and mandatory construction standards. To get additional details, contact us on our website.
The quality control measured are taken right from raw material stage to final product and that is readily reviewed through necessary documents. Internal inspection report is made for every lot and the same is given to the customer along with material TC report. All our measuring INSTRUMENTS are calibrated periodically.
We are the manufacturers and suppliers of the different type of precision industrial Spray Nozzles and Accessories since in 2004, Today 'RAYYAN SPRAY SYSTEMS' is a trusted name in the manufacturing different types of nozzles used in various fields our fields of specialization include manufacturing nozzles for surface treatment, chemical industry. Steel making industry, power engineering and environmental technology, air conditioning, fire protection, paper industry, Food and beverages, Machine tools and agriculture.
We also manufacture nozzles as per your Specification and sample. We attribute our success to our motivated and skilled work force. Who can accomplish job order of varying magnitudes and complexities. We are proud to have esteemed customers who have entrusted their faith in us over the years.
Applications of Spiral Spray Nozzles
spiral full cone nozzles spray and deliver fine droplets via strong thermal currents to use in firefighting applications for industries. The structure of the nozzle spray increases the cooling power to use in industrial cooling applications. Fluids from spiral nozzles break into spray patterns to perform deep cleaning without causing any blockage of the spray.
Fire fighting system
Gas Washing
Cooling towers
| G | L | L1 | HEX |
| --- | --- | --- | --- |
| 1/4" | 46 | 10 | 17 |
| 3/8" | 50 | 10.5 | 17 |
| 1/2" | 65 | 14 | 22 |
| 3/4" | 70 | 15 | 36 |
| 1" | 92 | 17 | 35 |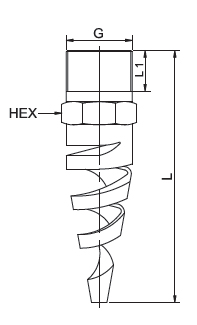 | Fire fighting system | Flow rate lpm at pressure P = 2 to 10 bar | Connection | Materials |
| --- | --- | --- | --- |
| 60°, 90°, 120°, 150°, 180° | 10 to 2700 | 1/4" to 2" BSP/BSPT/NPT-(M) | Brass SS-304, SS- 316. PVC, PP, Teflon |
Special material and connections on request.