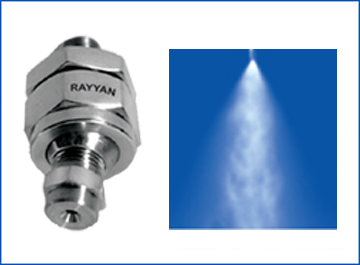 Full Cone Adjustable Ball - Types Nozzles
This type of nozzles are used for adjusting of variable spray direction.
Introduction
Are you searching for a spray nozzle to adjust variable spray direction? Install the latest Full Cone Adjustable Ball - Types Nozzles. These nozzle sprays have a complete conical pattern with a circular impact area, a spray tip, and a threaded base.
Features of Adjustable Ball Nozzles
Full Cone Adjustable Ball - Types Nozzles come with the following features -
Every adjustable ball-type spray operates between 2 to 10 bar pressure and has a flow rate of a maximum of 22 LPM.
Engineers use top-quality materials to design adjustable nozzles, like Teflon, brass, and PVC.
Depending on the requirements, Full Cone Adjustable Ball - Types Nozzles are available in 45 degrees, 60 degrees, and 120 degrees of spray angles.
What type of product do we offer?
We at Rayyan Spray Systems have skilled engineers to design adjustable full cone nozzles based on the sample you provide and its related specifications. In the case of special requirements, visit our official website.
The quality control measured are taken right from raw material stage to final product and that is readily reviewed through necessary documents. Internal inspection report is made for every lot and the same is given to the customer along with material TC report. All our measuring INSTRUMENTS are calibrated periodically.
We are the manufacturers and suppliers of the different type of precision industrial Spray Nozzles and Accessories since in 2004, Today 'RAYYAN SPRAY SYSTEMS' is a trusted name in the manufacturing different types of nozzles used in various fields our fields of specialization include manufacturing nozzles for surface treatment, chemical industry. Steel making industry, power engineering and environmental technology, air conditioning, fire protection, paper industry, Food and beverages, Machine tools and agriculture.
We also manufacture nozzles as per your Specification and sample. We attribute our success to our motivated and skilled work force. Who can accomplish job order of varying magnitudes and complexities. We are proud to have esteemed customers who have entrusted their faith in us over the years.
Applications of Adjustable Spray Nozzles
Adjustable nozzles have applications in a wide range of industrial washing and cleaning, such as the cleaning of metals, materials, automotive parts, vehicles, tanks, and conveyors. Full Cone Adjustable Ball - Types Nozzles are useful in pressure washing in industries. Many industries use adjustable and ball types of spray nozzles to accomplish the purpose of dust suppression.
Cleaning
Cooling
Washing
Dust suppression
| Spray Angle | Flow rate lpm at pressure P = 2-10 bar | Connection | Materials |
| --- | --- | --- | --- |
| 45°, 60° to 120° | 2 to 22 | 1/4 ", 3/8" BSP/BSPT/NPT-(M) | Brass, SS-304, SS-316, PVC |
Special material and connections on request.