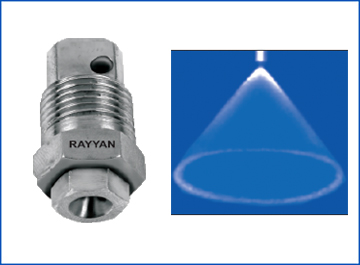 Hollow Cone Nozzle - Inline
In line entry (small capacity) supply of liquid takes place axially and form fine uniform hollow cone spray nozzle.
Introduction
If your chemical or pharmaceutical company wants a sophisticated nozzle spray that has a large passage without any obstruction, you should look for an inline nozzle spray. The best thing about a Hollow Cone Nozzle-Inline is that it does not possess any whirling vane inside and is resistant to clogging issues. 
Features of Inline Hollow Spray Nozzle
Hollow Cone Nozzle-Inline has the following interesting features -
Inline entry allows liquid supply in the axial direction.
These nozzles will cause fine and uniform distribution of the liquid.
Inline hollow nozzles allow high-speed entry of the liquid to create a sturdy force for generating droplets in the shape of atoms.
What type of product do we offer ?
Our experts at Rayyan Spray Systems offer high-precision inline hollow nozzles to provide outstanding results. If you want details, check our official website as soon as possible.
The quality control measured are taken right from raw material stage to final product and that is readily reviewed through necessary documents. Internal inspection report is made for every lot and the same is given to the customer along with material TC report. All our measuring INSTRUMENTS are calibrated periodically.
We are the manufacturers and suppliers of the different type of precision industrial Spray Nozzles and Accessories since in 2004, Today 'RAYYAN SPRAY SYSTEMS' is a trusted name in the manufacturing different types of nozzles used in various fields our fields of specialization include manufacturing nozzles for surface treatment, chemical industry. Steel making industry, power engineering and environmental technology, air conditioning, fire protection, paper industry, Food and beverages, Machine tools and agriculture.
We also manufacture nozzles as per your Specification and sample. We attribute our success to our motivated and skilled work force. Who can accomplish job order of varying magnitudes and complexities. We are proud to have esteemed customers who have entrusted their faith in us over the years.
Applications of Inline Hollow Spray Nozzle
Hollow Cone Nozzle-Inline is useful in chemical industries to cool and clean air or gas.  A few manufacturing units use inline nozzles for the treatment of iron, stainless steel, and other metals.  Automotive companies use an inline hollow cone nozzle to perform brine spraying.  Other applications of the nozzle are spray drying and desuperheating. 
Cooling and cleaning of air and gas
Spray draying
Desuperheating
Metal treating
Bride spraying
| G | H | HEX |
| --- | --- | --- |
| 1/4" | 25 | 14 |
| 3/8" | 27 | 17 |
| 1/2" | 32.5 | 22 |
| 3/4" | 38 | 27 |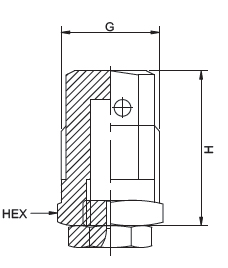 Spray Angle
Flow rate LPM at
pressure (p) =0.5 -10 bar
Connection
Materials
60°, 75°, 90°
1 - 180
1/4", to 1½" BSP/ BSPT/NPT-(M)
Brass, SS-304, SS-316
Special material and connections on request.