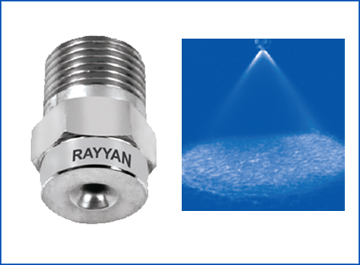 Full Cone Nozzle
Full cone utilizes an internal vane to provide a uniform round conical. Full spray pattern with medium to large sized drops. A wide choice of full cone nozzles is shown on the following pages, which are sufficient for the majority of standard industrial process. In order to assist your choice of nozzle, the TABLE below lists the full cone nozzles type, and some general ndications about the nozzle style special features, spray pattern and specific application where it might be used.
Full cone nozzles are normally delivered in brass or in stainless steel SS-304, SS-316, while a wide choice of offer material like PVC ,PP .Teflon , Hastelloy can be supplied on request.
Introduction
The full cone spray nozzle has found wide applications in diverse industries. A full cone nozzle produces medium or large-size drops to form solid spray patterns in the shape of a cone with a circular impact area. As a unique vane design, the nozzle offers easy flow passages to allow uniform distribution and higher control.
Features of Full Cone Nozzle 
A full cone nozzle has the following features to meet several industrial requirements -
strong>
Equipped with removable vanes and caps to clean everything easily.
Incorporate many styles of cone nozzle, like quick-connect, flanged, and threaded to provide the highest possible free passage.
Come with multiple spray pattern variations, such as wide-angle, standard, narrow-angle, oval, square, and wide-angle square.
Spray angles range between 15 degrees and 170 degrees.
Nozzles have flow rates to a maximum of 8728 GPM.
Every full cone nozzle has the highest operating pressure of 25 bar or 400 psi.
What type of Product do we Offer ?
Our experts at Rayyan Spray Systems supply a variety of choices related to full cone spray nozzles. As we offer nozzles made of different metals, they are enough to meet standard industrial methods. To get further details, visit our official website.
The quality control measured are taken right from raw material stage to final product and that is readily reviewed through necessary documents. Internal inspection report is made for every lot and the same is given to the customer along with material TC report. All our measuring INSTRUMENTS are calibrated periodically.
We are the manufacturers and suppliers of the different type of precision industrial Spray Nozzles and Accessories since in 2004, Today 'RAYYAN SPRAY SYSTEMS' is a trusted name in the manufacturing different types of nozzles used in various fields our fields of specialization include manufacturing nozzles for surface treatment, chemical industry. Steel making industry, power engineering and environmental technology, air conditioning, fire protection, paper industry, Food and beverages, Machine tools and agriculture.
We also manufacture nozzles as per your Specification and sample. We attribute our success to our motivated and skilled work force. Who can accomplish job order of varying magnitudes and complexities. We are proud to have esteemed customers who have entrusted their faith in us over the years.
Applications of Full Cone Nozzle
Distribution of water droplets within the inner volume of cooling towers  Various types of cleaning and washing procedures go on in different industries  Quenching and cooling applications to adjust the mechanical properties of diverse metals  Suppression of stubborn dust and spraying on surfaces Depending on the situation, a full cone nozzle is useful for fire protection 
Washing and cleaning processes
Colling and quenching
Dust Suppresion
Surface Spraying
| G | L1 | L2 | HEX | D |
| --- | --- | --- | --- | --- |
| 1/8" | 19 | 6.5 | 12 | 11 |
| 1/4" | 22 | 10 | 14 | 13 |
| 3/8" | 25 | 10.5 | 17 | 16 |
| 1/2" | 32 | 14 | 22 | 21 |
| 3/4" | 42 | 15 | 27 | 32 |
| 1" | 56 | 17 | 36 | 39 |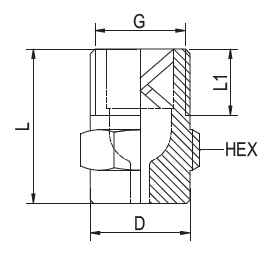 | Spray Angle | Flow rate LPM at Pressure (p) = 0.5 -10 bar | Connection | Materials |
| --- | --- | --- | --- |
| 45&deg, 60&deg, 90&deg, 120&deg | 1 - 750 | 1/8" to 2" BSP/BSPT/NPT - (M) | Brass, SS-304, SS-316, PVC, PP |
Special material and connections on request.
Full cone nozzle spray in a conical spray pattern within the inside area of the cone. They are available in axial or in tangential. Axial full cone spray pattern with uniform distribution of liquid spray over the whole circular impact area. It consists of vane. in most of these nozzles the vane are removable.